I guess this topic has been an old one in this blog.
It's so difficult, isn't it?
To be brave to step out of your stable track.
I guess some people may say something like: "Yeah, that's right.", "That's true. They are really brave to do that!", "Are they stupid? To give up everything you have and try something you never experience before?" or "Well, I'll do that. I just need some time to plan it."
According to my personal unofficial statistic data, more than 90% of people are trying to step out the track they are walking on now even though they complain on their current lives a lot.
Certainly, some people may say: "That's because there no enough needs to step out the track!"
スポンサーリンク

Then we have to discuss something deeper in order to answer the question.
Had you asked yourself: "Is it OK to be like this for the rest of your life?"
If you answer, "I'm 100% happy and I won't regret for my life at all even if I die tomorrow", then you don't need to step out of the track you have now. Not at all.
However, how about those people who can't answer like that?
"I know, but I can't do it now. I plan to do it after retirement."
"I understand that, but I need some time to prepare for it."
"Of course it's good to challenge, but it's not bad to stay in my current life as well."
——————————
Several days ago, a man went to my place. (well, this article was originally written in August 2015)
By a motorcycle.
From Japan, to Finland. 8,000 kilometers.
He quitted his stable job in a big company.
He stepped out for a long journey away from a safe country.
You may think him so stupid.
"What do you plan to do after your journey?", I asked him.
"I think I'll go back to Japan and find a job.", he answered.
Sounds nothing big deal in these words, but I felt something different.
That's confidence and a strong spirit for a life.
——————————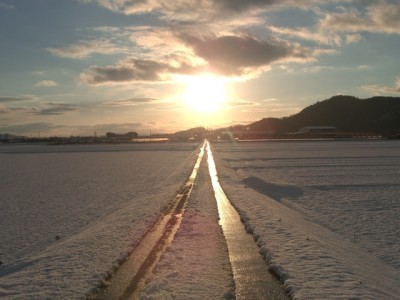 Yes, it's not easy.
It's not easy to say goodbye to your stable life and visible future in next month or next year.
Nevertheless, how you would feel to choose to endure for stable life, to hide your dream and to wait for a regretful end of life?
Actually, it's not so difficult to step out of your track.
Taking motorcycle travelling as an example, it looks and sounds quite difficult to travel along by a motorcycle to cross Russia and other countries. However, the major cost is the motorcycle itself. The other cost and safety issues can be possibly controlled well by a good plan.
Taking myself as an example, it may also sound quite difficult to go abroad for further study and start a business in a foreign country. Actually, the living cost in Finland (Jyvaskyla) is only 40% of the living cost in Tokyo. Finnish universities didn't charge tuition fee for study. As long as you can apply for courses in English, it's not so difficult.
Even for starting a business in a foreign country, you don't really need lots of money for starting a business and Finnish government even gives you some money for starting a new business.
Since it could be so easy, why there are so few people trying to step out of their tracks?
[Anxiety due to uncertainty]
In order to survive, animals own the natural reaction of anxiety to uncertainty.
As a result, you need to be a bit brave at least in order to step your first step out.
With a bit braveness and a bit money, then you just need to do it.
As long as you keep trying hard, you'll win the favor of god of luckiness.
So, now why don't you stay away from your phone or PC for a moment? Why don't you spend 10 minutes to think of your life, your dream and any regrets for your life…