There are various kinds of funds available for start-ups in Finland.
Today I would like to talk about one of the most general and widely used funding: Start-up grant.
In Finnish, it's written "Starttiraha", which means the money for starting.
This funding is provided by the Ministry of Employment and the Economy of Finnish government. If the application is approved, the start-up firm can receive around 1,000~1,600 euros (before tax) every month for at least 6 months. There is also possibility to elongate it to as long as 18 months.
スポンサーリンク

Although 1,000 euros are definitely not a big money, it does help people just trying to start their own businesses.
The conditions for application are written on the official website.
・Start the business as a full-time job
・The business haven't started (the company haven't been registered)
・Potential to grow and get profit
I want to start my business now and I want to apply for the grant now!
I just worried that it could be a problem that I'm still a student here.
I check internet and I found that it can be applied through E-service on internet, but "Bank Identification" is necessary. Since I don't have bank identification yet, I cannot apply for it online. So, I chose to go to the local office of Ministry of Employment and the Economy in Jyväskylä.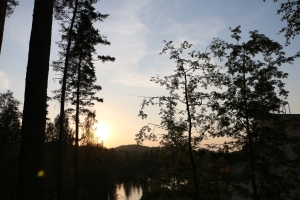 The counter service person was a friendly woman. However, she doesn't speak English at all……!!
In the past 8 months since I came to Finland, I only met 2 Finnish people who didn't speak English at all. One was the counter service person in gym and the other was a service engineer coming to fix my apartment.
Then I tried to use extremely easy English to explain that I want to apply for start-up grant, and then she asked me to fill in a 4-page form titled "Job Seeker" and said that she will call me.
Will she really call me? hm……
I want the start-up grant for my business!
I felt Finnish language is still necessary for doing business here.