In the aspect of local transportation, I always ride bicycle through the whole year no matter it's -20 or 30 degrees C outside, so the fixed monthly transportation is basically zero for me. The only costs were the 60 euros used to by a second-hand bike, which is actually very expansive for me (a NEW bike is only 40 euros in Tokyo!), but 50 euros was even the lowest price I can find here, and 20 euros to repair the blowout of my tire (and this is actually to exchange with a second-hand tire!!). Therefore, the total commuting fee was 80 euros for the past 10 months, which can be calculated to be 8 euros per month.
スポンサーリンク

In winter, around 70 or 80% of people would stop biking and take bus or just walk. Students can buy bus monthly pass with around 40 euros. Roninmaki, where I'm living, is around 4 kilometers away from city center which takes around 15 minutes by bus (it's also 15 minutes by bike). Few people have their own cars and a car would cost around 100 to 300 euros per month for tax and gasoline.
Cost for medical treatment is important to know. Basically, all students need to buy their own health insurance in order to apply for residence permit. Hence, if you went to hospital and paid a lot for surgery or in-hospital treatment, you can apply for reimbursement from your insurance company.
If it's a small illness like a cold or stomach ache, there is Finnish Student Health Service for you. If you have student card with you, the treatment would be free of charge.
But please be noticed that dental treatment is not free. It is charged by the length of treatment time (counted every 10 minutes).
I have to take medicine every day, although it's not a serious problem. I went to Finnish Student Health Service (FSHS, the student clinic) to ask for prescription and that was free. However, medicine costs, but it wasn't that expansive I expected since I spent around 25 euros for the medicine in Japan and it took around 30 euros here in Finland for the same medicine.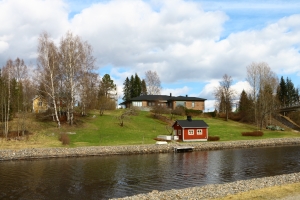 I also experienced dental problem. My implant got off! Although it wasn't painful, the problem was in the appearance. I called FSHS 8am on the next day to ask for an urgent dental service and I got an appointment at 10am on the same day. The dentist originally planned to just do first aid and transfer me to the city hospital, but she confirmed that my problem is not so serious and she took 30 minutes to put the implant back with cement. That costed around 30 euros.
Besides, basically you need to take an appointment (by phone or online) before going to FSHS clinic. If you skip an appointment without cancelling it, you may get penalty for 20 to 30 euros.
If you got acute illness, but you can wait until morning, FSHS starts its service from 8am for acute illness. If you can't wait, you need to go to city hospital at weekday nights or weekends.
I didn't experience going to city hospital for my illness, but I accompanied with my friend there once. It was some bone or joint problem and we thought we need to take a X-ray photo. It was an afternoon on a weekday, so we go to a first window to let a nurse to check her condition and fill in personal information. She sent us to a doctor, the doctor checked the illness of my friend and we took the prescription and finished it.
It's not complicated process and since we students all bought health insurance for studying here, we shall utilize them smartly.
Continues.