About sports in Jyvaskyla, if you use the gym in the university, it's free (opens only on weekdays).
I play badminton weekly at public gymnastic hall, called Hipposhalli and Monitoimitalo, since it's as cheap as 3 euros for one court and an hour for students and you can do it no matter how bad the weather is or how cold the temperature is outside.
I also like tennis very much, but the free courts in the university are outdoors which can be used only from the end of spring (end of April) to beginning of fall (beginning of November). A private indoors court cost around 20 euros an hour (this is student price!), which is too much for me.
スポンサーリンク

Furthermore, there is a system existing in Jyvaskyla, called sports sticker. It costs around 50 euros for one semester and 80 euros for one academic year. With this sports sticker, you can freely use 3 gyms (opens everyday) and attend more than 10 kinds of ball game courses and 10 kinds of fitness courses without further charge (there are usually 6 or 7 classes every day).
Because I had many classes and I enjoyed using free gym in the university and playing badminton, I didn't buy sports sticker.
Next, I would like to talk something about Finnish people.
Before that, I want to note that I don't like to define the features of people in a country or a race and put labels on them. Hence, everything written below is based ONLY on my personal experience from my interactions to around 15 Finnish friends in the past 10 months (and none of them are from Helsinki!) just as part of your reference.
If I try to describe Finnish people with some keywords, they would be:
"Quite", "Shy", "Friendly", "Honest", "Black-like", "Sport-like", "Alcohol-like" and "Argument-hated"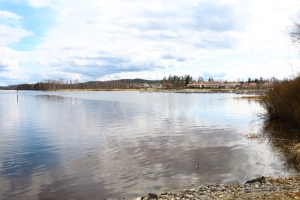 They basically talk what they thought directly, but they also care about how others feel.
They don't tend to speak out their opinions in the classroom.
Sometimes you may feel coldness from them.
Some of their habits are sports and alcohols.
I haven't met anyone who lied or is lack of responsibility.
It's pretty difficult to get into their lives without knowledge of Finnish language. (of course!)
I haven't felt any discrimination so far.
They could be quite close to Japanese people, although they may not as good as Japanese people to read the atmosphere and think of the back side of others' thoughts.
In a whole, I never feel uncomfortable to stay with them!
So, how do you feel and think now? Have you known more about Finland, Jyvaskyla and a life of an international student here?
These are all from me today! I'll share more in the near future!