I watched a very interesting Finnish movie.
A Finnish young guy cannot feel happiness at all even he owned lots of items in his room.
So he decided to start an experiment.
(1) Put all his stuff into a warehouse.
(2) Only one item can be taken out after a day.
(3) Continue for 1 year.
(4) Never buy anything in this 1 year. (except food)
It's a movie that made me think about what things mean.
スポンサーリンク

In a city such as Tokyo, things sometimes mean more than themselves.
For example, some brand items may be used to show the owner's social status rather than bags or watches. Some products developed under an extremely segmented market, such as eye washing liquid, were used to satisfy some clean freaks rather than washing eyes.
But, do people really feel happy when they have lots of things?
Do they really need to buy many things to build happy lives?
There are no laughs, not actions, no strong impacts in this movie.
It's a movie making us think.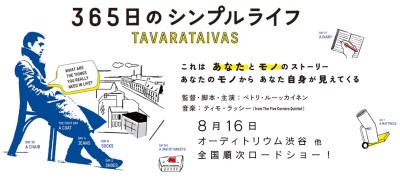 It will be on screen regularly from 15th Aug 2014, but because of the EU Film festival, it was on screen for 2 times at National Modern Art Museum Film Center. (very cheap, 520 yen/5 USD!)
Even it was 3:00 PM on a weekday, there were around 100 people who had bought tickets before they came! And the 500-seat theater was full at the end!
Maybe you should also try to watch it! Your life may change a lot!?