Last time I wrote about the application of Finnish ID card.
This time I'll continue the story. When will this application trip end…?
After sending out the application for 1 week, a short text message came to my cell phone and said that my ID card is ready. I got my Finnish ID card at the police station.
I went to the bank on the same day to book an appointment for application of internet banking service. I got an appointment 2 weeks later since I had a trip in the following week.
スポンサーリンク

When I went to the appointment 2 weeks later, I was surprised that the internet banking service can be started right away!! I guess this is because I had booked the appointment 2 weeks ago and the bank started the internal process in these 2 weeks.
Finally!! I can start the online application for start-up grant!!
I biked home with full speed and tried online application without losing any seconds.
After using the ID and password from internet banking service to log in, I filled in personal information, career and academic history, business overview, strength and weakness, details of products and services, and financial plan to complete it.
I was shocked that application didn't complete fully online!
I still need to hand out a document called "Certificate of tax liability".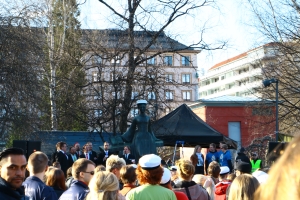 Besides, I didn't choose to write all the details of my business plan and financial plan in the application form and chose to attach them together with the application form, so I still need to send these documents or go to the office to hand them out. (even the application process didn't end fully online, but being able to use google translate on webpages helped me a lot to read the forms in Finnish!)
So I went to tax office (Vero office) to get Certificate of tax liability and print out my business plan and financial plan, and then went to TE office.
This time I was lucky that the service person speaks English. I handed out the documents and she told me to wait for contacts. (it's written on the official website that the examination takes 1 to 4 weeks.)
It's totally fine for me to wait, but I just start to worry again that what if my application just disappears again without any contacts…
But anyway since it's my first time to do it, I should not expect it to be too easy…