The fighting against myself was the most difficult part in preparing the exams for scholarship of studying in Japan, which is also described in Study abroad, step by step to the dream(2).
I believe the process of creating new business is very similar.
A couple of days ago, one of my friends asked me, "Don't you feel anxious since you just started your own business and having no income?"
"Extremely anxious certainly!" I answered.
No doubts!
No income, no guarantee of success, how could I live without anxiety?
It's just like the feeling of walking out of a well-known road into a vast forest.
スポンサーリンク

But I knew 2 good ways to fight against anxiety these days.
Skiing/Snowboarding and Ice skating.
Even though most ski fields are far away from Tokyo, which takes lots of time and money to visit, I can just forget everything while skiing, including anxiety.
Exercise with only friction sound from the board and the snow surface and looks at the white and mountainous world without any noisy thoughts.
Skiing once and once, again and again.
I felt my heart also become a snow white world.
Then I can fight against the anxiety back in Tokyo again.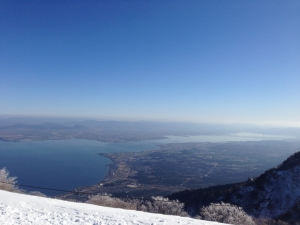 One more thing is ice skating.
(I guess I really like cold world very much…haha…)
Actually the environment is quite similar to the one of ski.
Even not as wide as ski field, I can get speed by skating, feel the wind going through my face and bringing away everything away from me in the ice ring stadium.
Watching people falling, watching people laughing, I feel like I am in another world away from reality.
Then 3 or 4 hours just gone when I noticed.
There are many ice ring stadiums in Tokyo, which only cost 1,500 to 2,000 yen (15~20 USD) for 1 day. I do want to go every week…
I can only make the balance to fight against anxiety and believe I will make it.
And anything left to be done will be running ideas freely, expanding business with confidence, working in my own style and live with happiness.