I knew there is little information about Finland or Jyvaskyla on the internet, especially in English and now is the time for the universities in Finland to send out entrance admission, so I think I could have some living information on this blog for people who would need it.
In my previous article "Life information in Jyvaskyla", I talked about the student accommodation and long distance bus systems in Jyvaskyla and Finland.
Today I'll start from living cost in Jyvaskyla.
My average monthly living cost is around 700 euros.
スポンサーリンク

Apartment 232 euros (the cheapest level in all student apartments)
Food 250 euros (Lunch in university restaurant: 2.6 euros + self-cooking for breakfasts and dinners)
Living ware 60 euros
Entertainment 120 euros (Short trips, parties or alcohols, and some internet comic books!?)
Education 30 euros (Books or printing)
In total, around 700 euros
For communication, I use pre-paid phone number, so I don't spend fixed fee for cellphone number every month. If I called and run out of the balance, I would charge 10 euros more into the account. I only charged 20 euros in total in the past 10 months in Finland, so actually the average monthly fee for telephone is 2 euros.
For the internet, internet is free (LAN) in student apartments and free in all buildings in the university as well. As a result, I never pay for 3G or 4G/LTE internet or others.
About my cloth, I always wear cloth I brought from Japan. I didn't buy any cloth more than 30 euros. Ski wears I sent from Japan was good and enough for the minus-20-degree winter.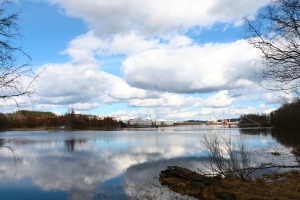 There is a free second-hand shop operated by Student Union (by both University of Jyvaskyla and JAMK University of Applied Science) existing in Kortepohja where is an area in Jyvaskyla 10-15 minutes bike from city center. The open period is not sure, but I guess it usually operates at the beginning of new semesters. It opened 17:00-19:00 every Tuesdays at Kortepohja in last year. There are various stuffs free for students, such as kitchen ware, cloth, coats, shoes, appliance, etc. I got a long under pants for me to wear under jeans, which made me survived through last winter.
Besides, there is a Facebook group for students or anyone in Jyvaskyla to buy and sell second-hand goods directly, which is called "Second-Hand Items in Jyväskylä". Anyone can join this group. The traded items range widely from spoons to cars. I also got some kitchen wares, desk lamb only with several euros.
About the electricity and water fee, they are included in the apartment rental fee. Natural gas is not installed and not necessary.
Continues.