Today I wrote for those who will come to Jyvaskyla for study.
There are 2 major universities at Jyvaskyla, one is called University of Jyvaskyla owning about 15,000 students and the other one is call JAMK Applied Science University owning around 6,000 students.
You can take flight, train or bus to travel from Helsinki to Jyvaskyla, but the cheapest one is bus. The major bus companies are as following:
MATKAHUOLTO
There are mainly 3 benefits of using this bus company.
(1) The biggest bus company in Finland and owns the most routes and the most frequent schedule.
(2) Providing a route to travel from Helsinki Vantaa Airport to Jyvaskyla directly.
(3) A ticket could be as cheap as 7.5 euros to move from Vantaa Airport to Jyvaskyla. I booked an early morning (4:40AM) seat on 2nd August 2014 with the above price. By the way, the general adult price from Vantaa Airport to Jyvaskyla is around 55 euros and student ticket would be 23 euros.
スポンサーリンク

OnniBus
It provides extremely cheap tickets!! You can even get as cheap as 5 euros to move between Helsinki and Jyvaskyla. Even on usual week or weekend days, the ticket is just around 15 euros, although the price varies according to the market demand.
The disadvantage is fewer routes and buses. They don't provide service between Vantaa Airport and Jyvaskyla as well. So you will need to move from Vantaa Airport to the center of Helsinki to take this bus.
By the way, you can buy tickets from both companies on line.
Then the second thing is accommodation.
There are 2 major student dormitory systems in Jyvaskyla.
The first one is KOAS which is a privately (maybe?) operated company.
You can check the locations, prices and relevant information on line, and you can also apply for it on line, too. The price ranges approximately from 200 euros to 600 euros. Fee of electricity, heat and internet is included in the rent. It's very cheap comparing the living cost at Tokyo, which is around 40% of living costs at Tokyo.
Some rooms are equipped with furniture, including desk, bed frame, bed mattress, book shelf, closet, 2 chairs, ceiling light. Furniture equipped room takes 10 euros more every month.
No matter the room is equipped with furniture or not, all flats are equipped with refrigerator, oven and stove.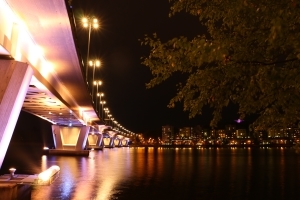 The other one is call Student Village at Kortepohja.
Range of price is similar to KOAS and fee of electricity, water, heat, internet is also included. However, option of location is only one (around 2.5 km from University of Jyvaskyla) and all rooms are NOT equipped with furniture. So if you are moving to Kortepohja Student Village, you should be ready to sleep on the ground for the first or next several nights. Besides, you cannot apply on line, you need to fill out a form and send it through email to apply for it.
No matter which one you prefer, you had better to apply for your accommodation as soon as you get your university entrance admission. When it goes to 1 month before the start of semester, all rooms will be occupied.