It's quite important to join Student Union overall.
It's different from Japan or Taiwan where every student would receive his/her own student card from the university naturally, but in Finland if you don't pay to join Student Union, you won't get your student card.
More precisely speaking, you need to pay around 100 euros every year in order to get a sticker to prove that you are in the Student Union. You stick the sticker on your student card to use it.
スポンサーリンク

Without this sticker and student card, a meal in student restaurant will be double to 5.2 euros and you won't be able to use Finnish Student Health Service or enjoy the 50% off discount for train or bus, which may actually cost more at the end.
It's expensive to eat in a restaurant. The cheapest restaurants are kebab restaurants which costs 5 to 10 euros for a meal. For a general restaurant, a meal cost at least 15 euros, so it may rise to 20 euros simply by adding a glass of wine. Usually, it may cost 30 euros for a common meal with main dish, soup and a glass of alcohol.(Instant food restaurants costs 4 to 8 euros for a burger set)
Therefore, I usually have lunch at student restaurants in the university and cook by myself for breakfast and dinner. I go to supermarket once a week for food materials and usually it costs 20 to 30 euros every purchase. I try to save money by avoiding expensive food such as beef or seafood.
I spent little for entertainment.
Usually only for cooking dinners together, parties or alcohols.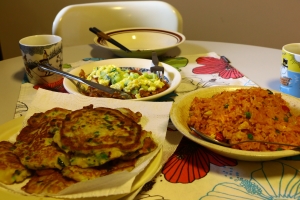 If you go to a pub, a bar or a club, it may cost 3 to 8 euros for entry (it may be free according to the day and the time) and alcohol may take 5 to 15 euros for a glass. A bottle of wine may range from 15 to more than 30 euros. Since it always costs more than 20 euros easily, I don't go there often.
Watching a movie in a movie theater would take 7 to 13 euros depending on the day and the time. Weekdays and morning time is cheaper, and weekends and night time is more expansive. Billiard could be around 10 euros for 1 or 2 hours. I haven't tried both yet through.
Ski season starts from the middle of December and ends at the end of March, which is quite similar to Japan. However, it's as close as 15 minutes by bike to reach the ski field from city center. Happy-hour time for students is 16:00-20:00 on Tuesdays or Fridays. You can do skiing or snowboarding for 3 hours inside the period of time. It costs 20 euros including lift ticket and rental board set and boots. Other time except happy hours will cost more than double. By the way, sunset is at 3pm in winter, so all happy hours are at night and lightened.
Continues.