This is the exhibition I attended last year.
I was attending for collecting information of MBA courses at that time.
However, there were very few booths of business schools, so I spent some time in other booths.
One of them is Norway.
The person looks like from the embassy of Norway tried hard and spent much time to find out the appropriate programs for me, which was so impressive for me.
Besides, the cute Japanese girl who studied in Norway at the booth was so cute, haha.
Even through I didn't consider to study in a northern Europe country at all at that time, this visiting is the beginning of all my journey to Finland actually.
スポンサーリンク

Therefore, if there is a similar activity in your country, please try to attend.
Your life may also change dramatically!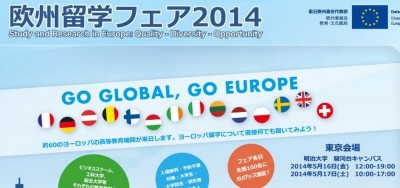 European study fare 2014 (Japanese)
There are also some presentations.
Presentation schedule
I'll also go there to get some information of other European countries!