Due to an interesting event held today, the planned second part of "Study abroad" will be postponed to tomorrow. Sorry.
An event held by Google, Innovation Tohoku
(Tohoku means eastern northern Japan, which is the area of strong earthquake in 2011)
"Memory 3 years ago and the rebirth of Tohoku," which is held at Roppngi Hills in Tokyo.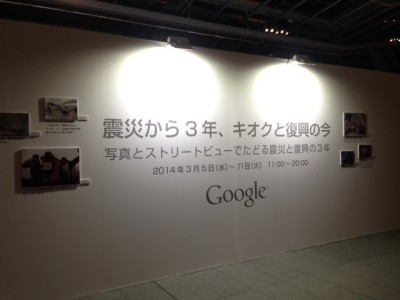 スポンサーリンク

A talk show.
Title: "Support from Tokyo for rebirth of Tohoku"
Main cast: Daisuke Tsuda (Journalist, media activist)
Panelists:
Kenji Kato (CEO, SQOOL Corporation)
Tomoe Kawamura (Copyrighter, Consultant, Board member of Commerce Design Corporation)
Kentaro Fujiwara (Web Director, Online travelling website)
Miho Nakamura (Senior Researcher, SFC Research Institute, Keio University)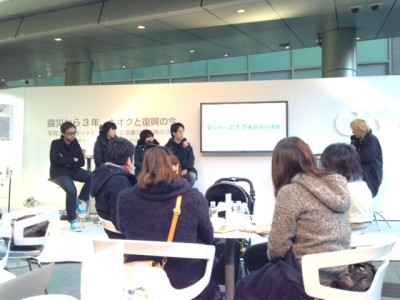 Since I have lived in Tokyo/Japan for 8 years and experienced the East Japan Earthquake in 2011, it is quite common to see some TV programs or news come up every March related to earthquake. However, it is my first time to access real talks face to face.
You may not know that the distance between Tokyo and Tohoku is from 200 to 700 kilometers, which is not so close for those who are doing supportive activities. Therefore, as the topic written here: "Support from Tokyo for rebirth of Tohoku", there must be some things people can do from Tokyo.
What can we do?
Mr. Daisuke Tsuda not only visited Tohoku area for many times, he also started several projects, including a project of selling second-hand clothes given by famous stars to general public to provide the profits to support the rebirth activities, and the other of developing Fukushima Nuclear Power Plant to be a sightseeing theme park. He believes that the development of sightseeing theme park will bring people here and let the incident be kept in the memory of people.
See article in English list here
How was the content? If you like it, please share it to encourage me!
スポンサーリンク
The latest articles in English