The Japanese culture was very different from Taiwanese.
Thanks for what I leaned and practiced in Taiwan, my Japanese was 80% OK for me to communicate with the salesperson of a real-estate shop. (except some professional words)
Again thanks for the good images of the behavior of Taiwanese in Japan in the past several years and the prestigious brand of my university, it was not difficult to pass the inspection and get better support. Then my Japan life began.
The overview of the flow in finding an apartment is visiting the real-estate shop, giving your conditions to screen out suitable objects, visiting the house, deciding which one you want to apply for, providing your personal information for the house owner to review, getting approval from the owner, deciding the date of moving in, pay all initial fee and moving in.
スポンサーリンク

Of course, by utilizing the apartment searching websites, the step 1~3 will be shorter and easier.
But there is one thing you need to notice, which is that there is an owner review step in this flow. If the image of your country was not good or your income is not stable, the owner can decide to reject your application. After all, no owners want to risk their houses being used for illegal activities or being not able to receive rent fee.
Furthermore, there are many items in the initial fee which includes rental deposit (1~2 times of monthly rent fee), real-estate shop handling fee (1 time of monthly rent fee), "thanks fee" (1~2 times of monthly rent fee) and the first month rent fee.
In Taiwan, where I was born and raised up, there is no culture of "thanks fee for renting a house". (I believe no other countries have, neither)
Besides, we have personal informational exchange or physical message board on the street for people to exchange information. Using these systems to rent a house will cost no any real-estate shop handling fee.
As a result, it's common to only pay for rent deposit and the first month rent fee as the initial fee.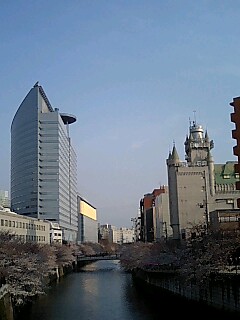 On the contrary, since almost all houses are rented out through real-estate shops in Japan (Tokyo), there is no way to avoid the handling fee.
The culture of paying "thanks fee", meaning to express your appreciation to the house owner by giving money, also makes the initial fee of renting a flat in Tokyo becomes very high.
Even it's case depending. The market situation is generally "thanks fee" 0~2 months fee, rent deposit 0~2 months fee, handling fee 1 month. So including the first month rent fee, you may need to prepare 6 times of monthly fee as the initial fee. If the monthly rent fee is 700 USD, then the initial fee may reach 4,200 USD!!
Appliance is given by senior Taiwanese students including tables, a refrigerator, a microwave oven, etc. I'm still using them now carefully and extremely appreciate them.
I had little money, so I even tried to take a stove and a TV with me on subway! It's so unbelievable now to think about this. Usually people ask delivery service to ship it.
Oh, ya! I even took home a single slim bed mattress from a garbage field! Now it's an interesting memory for me…
Continues.