Mr. Kazuki Kurosawa
Lived a fierce struggling life in the past.
"Extremely poor", "No food in refrigerator."
He had to play paper-rock-scissors game with his sister to decide who will gonna steal some food from the supermarket everyday to survive.
His father got drunk every day and shanked he with knife without hesitation.
"Dream? Hope? Bullshit!"
"Finding food is everything", he said.
He tried to suicide, jumping from 5th floor and falling on the tank of a motorcycle.
He survived and walked home just like nothing happened.
He got seriously sick, even omitted green liquid.
He was told by the physician that he only has one more week left.
In one week, he was discharged from the hospital with health.
(since it is a rare case, the physician even asked him to provide some data for writing a academic paper)
He realized that "I am not supposed to die! There is something for me to survive!"
スポンサーリンク

He came to the capital of Japan, Tokyo, with only a bag with him.
He went to the downtown and asked young female strangers for food for 3 days.
He asked one of his friends from childhood for accommodation for 1 night and stayed for 6 months…..
He spoke these stories like jokes or like stories of others, interestingly, happily and with fun.
He failed 2 time in his business and changed his job for 50 times.
Now with the same age of mine……wow……
Now he is a CEO of an NPO organization which is built to support the job hunting activities of the young.
His roller-coaster life was gradually recognized and admired by others.
Then he got chances to publish his books and have some speeches.
One more thing.
"I do those nobody wants to do. If it is valuable, money will come naturally. Continue will be considered powerful someday", he said.
I cannot agree anymore.
"Happiness existing all the time, except the despaired time" as he told.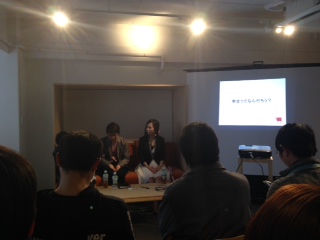 Mr. Shinnosuke Hirose
He called himself, "Depressed, woman-feeded NEET" with shy laughs in front of 30 people.
(NEET: young people Not in Education, Employment or Training)
The CEO of Koishikawa corporation and the president of Dejihari Countryside Labo.
He got depressed in the last year of university.
He entered an extremely busy start-up firm while studying in graduate school at the same time.
Certainly, depression came again.
Slept all day.
Isolated from the society.
A NEET.
Deeded by a woman.
House husband.
Reborn from a local organization.
Became an entrepreneur.
Business sold.
Multiple debts
A life that no one will envy at all.
"I felt I had died once. So my life now is like a bonus. The thoughts of being capable to die anytime easily with laughter make me feel released every day now."
"Depression made me feel I am trash, useless, a machine that only produce shit. However, after meeting those who own much serious inconvenience on their body, I felt I was so stupid to have those kind of thoughts and got some energy to live."
Those are philosophy that never ever existed inside me.
So, what are the common points of these 4 people?
Continue…